June 7, 2012
There are signs that are happening and we must take heed to these things.  These signs have to happen inorder for the prophecy to be fulfilled.  I was looking at a clip from the media where they was talking about what happen in Houla Syria.  I cried because the Syria military had killed almost 500 people including innocent children.  What was so sad was Russia & China Presidents supported what Assad the Syria President & his military did to these innocent people.  As I was praying & crying;   God said to give this prophecy and let people know that we need to pray for these innocent people in Syria that they may be deliver & setfree from these evil dictators in Syria. 
My God saith Enough is Enough!!!  You will not get away from killing my people and innocent children.  President Assad your days are numbered you will be DESTROYED!!!! The Devil is Mad because he has been EXPOSED!!!!  He is targeted innocent youth's because he knows that 2012 is the year of the YOUTH's & GOD'S CHOSEN WOMAN!!!!  The curse has been reverse!!!  Restoration of years are being restored for the youth and generations.  These years are being restored like the years of Abraham, Isaac, & Jacob.  These Men of God live longevity so you ask  yourself why is the Devil trying to take these youth's years.  The  youth are the next voices, they will perform signs & wonders with gifts of seeing visions & dreams, prophesying, speaking in tongues, healing, and ministrying and saving souls!
July 18, 2012
*Here is another sign to be watching, these evil dictators & their military will topple one by one…….. Assad you are next!!!!!
 July 18, 2012
Bomb kills Syrian ministers at heart of Assad rule
By Dominic Evans and Khaled Yacoub Oweis | Reuters – 6 mins ago
Related Content
BEIRUT/AMMAN (Reuters) – Syria's defense minister and President Bashar al-Assad's brother-in-law were killed in a Damascus suicide bomb attack carried out by a bodyguard on Wednesday, the worst blow to Assad's high command in the country's 16-month-old rebellion.
The bomber, said by a security source to be a bodyguard assigned to Assad's inner circle, struck a meeting in central Damascus attended by ministers and senior security officials as battles raged within sight of the nearby presidential palace.
Washington, which fears a spillover into neighboring states, said the situation seemed to be spinning out of control.
State television said Defense Minister Daoud Rajha and Assad's brother-in-law Assef Shawkat, the deputy defense minister, had been killed in a "terrorist bombing" and pledged to wipe out the "criminal gangs" responsible.
A Syrian security source confirmed Shawkat, 62, – a pillar of Assad's rule – had been killed and said General Hassan Turkmani, a former defense minister and senior military official, had died later of his wounds.
Intelligence chief Hisham Bekhtyar and Interior Minister Mohammad Ibrahim al-Shaar were also wounded, security sources said.
June 14, 2012
Here is another sign to be watching the rebuilt of the 3rd Temple in Israel.  I prophecied about the third temple being built on my Prophecy by Clara page on January 1, 2012.  Here is a confirmation that they are planning to rebuilt the 3rd temple:
THIRD TEMPLE DIAGRAM
NOTE THE CUBE IN THE CENTER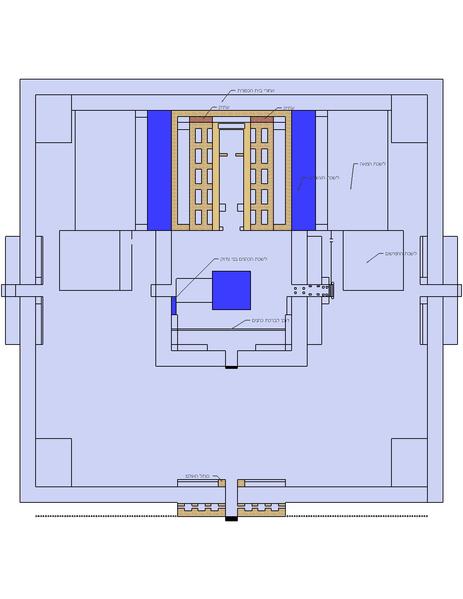 At first, I thought the 3rd temple would be built on
the Temple Mount, but Israelis are building one in
Mitzpe Yericho.
I also would have thought they would have called this the "School for the Cohanim (priests) and Levites for service." But they are calling it the Third Temple.
Jews in the town of Mitzpe Yericho are taking practical steps to prepare for the rebuilding of the Temple in Jerusalem, by preparing descendents of Cohanim (priests) and Levites for service.
At the Mitzpe Yericho school, Temple priest hopefuls learn exactly how to conduct the daily Temple service and offer the required sacrifices.
The school will include an exact replica of the Temple, so hence there is a 3rd temple now.
"Today is really a historical event for the Jewish people," organizer Levi Chazan said as another part of the school was completed. "It is the beginning of the work for the Third Temple."
 August 21, 2012
Here is a sign about what I said in my prophecy by clara page about this is the year of the youth!  Apostle Maldonado from Miami, FL gave a testimony about the youth at his church are performing signs, & wonders, healing, deliver & set free people and casting out demons, speaking  in tongues.  He said his youth went to the emergency room at a hospital and prayed and laid hands on all the patients that were sick in the emergency room.  After they prayed, laid hands on them, some fell out in the spirit and when they got up those patients were healed.  They had a crowd in the emergency room the youth healed the patients.  When the Doctor came out and saw that people was leaving the emergency room he couldn't believe it.  The staff said they had never seen anything like this before.  God is using our youth, to heal, deliver & set free, & seeing visions, prophesying and speaking in tongues.  Keep your eyes on the youth because they are the next voices!
October 29, 2012
There are signs to watch:  What Happen on the East Coast with Hurricane Sandy was a sign that I prophesied on my prophecy by clara page that there was wickedness in the atmosphere that had to be shifted and shaken from the atmosphere so it may be cleanse and restoration will begin.  This was a sign regarding generations going back to centuries from the 1500′s to 1600′s regarding Massachusetts.  It wasn't until the 1700′s when our Forefathers brought christian values to our country. Before the 1700′s there was so much wickedness in the atmosphere that was never cleanse until now.  Since this has happen you will see restoration beginning and also cures for illnesses like cancer, diabetes, stroke, alzheimers, autism, heart conditions.  The curse has been reverse.
By Prophetess Clara
Here is a article regarding Hurricane Sandy:
Hurricane Sandy on verge of New Jersey landfall
By Greg Roumeliotis and Tom Hals
NEW YORK/REHOBOTH BEACH, Delaware | Mon Oct 29, 2012 7:54pm EDT
NEW YORK/REHOBOTH BEACH, Delaware (Reuters) – Hurricane Sandy, one of the biggest storms ever to hit the United States, lashed the densely populated East Coast on Monday, shutting down transportation, forcing evacuations in flood-prone areas and interrupting the presidential campaign.
Fierce winds and flooding racked hundreds of miles of Atlantic coastline and heavy snows were forecast farther inland at higher elevations as the center of the storm moves ashore along the coast of southern New Jersey or Delaware on Monday evening.
U.S. stock markets were closed for the first time since the attacks of September 11, 2001, and will remain shut on Tuesday. The federal government in Washington was closed and schools were shut up and down the East Coast.
The storm's target area included big population centers such as New York City, Washington, Baltimore and Philadelphia.
More than a million customers already were without power by early evening and millions more could lose electricity. One disaster forecasting company predicted economic losses could ultimately reach $20 billion, only half of it insured.
In Washington, President Barack Obama appealed to the tens of millions of people in the hurricane's path to follow directions given to them by authorities.
"If the public's not following instructions, that makes it more dangerous for people, and it means that we could have fatalities that could have been avoided," Obama said at the White House, adding that people should expect long power outages and idled transportation systems.
New York City evacuated neighbors of a 90-story super luxury apartment building under construction after its crane partially collapsed in high winds, prompting fears the entire rig could crash to the ground.
PRESIDENTIAL CAMPAIGN INTERRUPTED
The storm interrupted the U.S. presidential campaign with eight days to go before the election, as President Barack Obama and Republican challenger Mitt Romney canceled events. Both men acted cautiously to avoid coming across as overtly political while millions of people are imperiled by the storm ahead of the November 6 election.
New York and other cities closed their transit systems and schools, ordering mass evacuations from low-lying areas ahead of a storm surge that could reach as high as 11 feet.
Sandy was moving quickly toward New Jersey and Delaware. At 5 p.m. (2100 GMT), the hurricane was 30 miles east-southeast of Cape May, New Jersey, and about 40 miles south of Atlantic City, New Jersey, the National Hurricane Center said.
Sandy picked up speed as it raced northwest toward the U.S. coast at 28 miles per hour (45 km per hour), with top sustained winds at 90 mph, it said. Forecasters said Sandy was a rare, hybrid "super storm" created by an Arctic jet stream wrapping itself around a tropical storm.
The combination of those two storms would have been bad enough, but meteorologists said there was a third storm at play – a system coming down from Canada that would effectively trap the hurricane-nor'easter combo and hold it in place.
Moreover, the storm was coming ashore at high tide, which was pulled even higher by a full moon.
While Sandy does not have the intensity of Hurricane Katrina, which devastated New Orleans in 2005, it has been gathering strength. It killed 66 people in the Caribbean last week before pounding U.S. coastal areas as it moved north.
An AccuWeather meteorologist said Sandy "is unfolding as the Northeast's Katrina."
Forecasters said Sandy could be the largest storm to hit the mainland in U.S. history.
Off North Carolina, the U.S. Coast Guard rescued 14 of the 16 crew members who abandoned the replica tall ship HMS Bounty, using helicopters to lift them from life rafts. The Coast Guard continued to search for two missing crew members, including the captain.
Joe Connelly, 52, a trucker from the Bronx, was leaving the City Island Marina after checking on his two motor boats. He said he watched the water from the first storm-driven high tide swamp a nearby dock.
"We were concerned that the whole dock was going to float away and out to sea," he said. "It had about four feet to go before that happened."
All U.S. stock markets were closed on Monday and will remain shut on Tuesday, with a plan to re-open on Wednesday that depends on conditions after the storm passes.
November 11, 2012
Here are signs to watch now Israel is in war with Syria.  Syria President Assad and his military is now throwing missile's into Israel, Lebanon, Jordan & Turkey.
"Thus saith the Lord, Enough is Enough!" President Assad I have giving you warnings after warnings you keep killing innocent people.  I made  you President of Syria and I can take away that title from you.  You will reap what you sow.  What  you did to innocent people it will be done unto you!!!!!!
By Prophetess Clara
Here is a article about Israel & Syria is in war.
Israel drawn into Syria fighting for first time
By AMY TEIBEL | Associated Press – 48 mins ago

JERUSALEM (AP) — Israel was drawn into the Syrian civil war for the first time on Sunday, firing warning shots into the neighboring country after a stray mortar shell from across the border hit an Israeli military post.
The Israeli military said the mortar fire caused no injuries or damage at the post in the Golan Heights, which Israel captured from Syria in the 1967 Mideast war and then annexed. But in recent weeks, incidents of errant fire from Syria to the north have multiplied, leading Israel to warn that it holds Syria responsible for fire on Israeli-held territory.
"A short while ago, a mortar shell targeted an IDF (Israel Defense Forces) post in the Golan Heights," said army spokeswoman Lt. Col. Avital Leibovich. "We answered with a warning shot toward Syrian areas. We understand this was a mistake and was not meant to target Israel and then that is why we fired a warning shot in retaliation."
The Israeli military also said it filed a complaint through United Nations forces operating in the area, stating that "fire emanating from Syria into Israel will not be tolerated and shall be responded to with severity." Israel returned fire with an anti-tank missile.
Nineteen months of fighting and the mounting chaos engulfing the regime of President Bashar Assad have already spilled across borders with Lebanon, Turkey and Jordan. The danger of drawing in Israel as well to a wider regional conflagration is one of the worst-case-scenarios for the civil war.
Violence also flared Sunday on Syria's northern border with Turkey, a common flashpoint. Syrian army forces backed by helicopter gunships and artillery attacked a border area with Turkey after rebels captured a crossing point, activists said.
The Britain-based activist group Syrian Observatory for Human Rights said the Ras al-Ayn border area in Syria's northeast was "under siege" as dozens of rebels tried to hold onto the border crossing.
The upheaval has largely had no direct impact on Syria's bitter foe Israel, and their shared border has remained mostly quiet, as it has been since a 1974 cease-fire.
Still, Israel worries that Syria's civil war could spill across into the Golan — a concern made more immediate by multiple cases of errant fire in recent weeks and Israel's claim that three Syrian tanks entered the demilitarized zone on the plateau this month for the first time in 40 years.
Israeli officials do not see Assad trying to intentionally draw Israel into the fighting, though they have raised the possibility of his targeting Israel in an act of desperation. Israeli officials have repeatedly said it is only a matter of time before Assad's regime collapses.
Over the weekend, Vice Premier Moshe Yaalon said Israel recently conveyed several messages to Syria and Damascus had "conducted itself appropriately." He did not elaborate.
On Sunday, Prime Minister Benjamin Netanyahu told his Cabinet that Israel is "closely monitoring" the border with Syria and is "ready for any development."
Earlier, Defense Minister Ehud Barak warned, "If a shell falls, we will respond."
Israel fears that if Assad's regime is toppled, the country could fall into the hands of Islamic extremists or descend into sectarian warfare, destabilizing the region.
It also is afraid that Syria's arsenal of chemical weapons and missile could fall into the hands of its Lebanese ally, the Hezbollah guerrilla group, or other anti-Israel militants if Assad loses power.
The aftermath of Egypt's revolution has also provided Israel with reason to worry about its frontier region with Syria: Egypt's Sinai desert on Israel's southern border has turned even more lawless since longtime Egyptian President Hosni Mubarak was ousted in February 2011, and Islamic militants are now more easily able to use it as a launching ground for strikes against southern Israel.
Fighting in Syria on Sunday was centered around Ras al-Ayn, in the predominantly Kurdish oil-producing northeastern province of al-Hasaka. An Associated Press cameraman on the Turkish side of the border said he heard explosions and saw plumes of smoke rise on the Syrian side.
On Friday, rebels overran three security compounds in the town, wresting control from regime forces, and the fighting there touched off a massive flow of refugees two days ago.
The violence in Syria has killed more than 36,000 people since an uprising against President Bashar Assad's regime began in March 2011. Hundreds of thousands have fled the fighting into neighboring Turkey, Jordan, Lebanon and Iraq. Another 11,000 escaped Friday into Turkey following the surge of fighting at Ras al-Ayn.
The mayor of the nearby Turkish town of Ceylanpinar, Ismail Aslan, said the number of refugees had slowed significantly on Sunday. But Turkish soldiers at the border turned back some of the refugees who had arrived late last week and wanted to return to Ras al-Ayn, saying the area was not secure.
In Qatar, Syrian opposition groups resumed talks on forging a more cohesive and representative leadership as the U.S. and other Western countries have advocated.
Ali Sadr el-Din Bayanouni, a former Syrian Muslim Brotherhood leader, said opposition groups planned to elect a president and other top officials later Sunday to an umbrella group backed by the U.S. and host Qatar. None of the opposition movements backs dialogue with Assad's regime, he said.
The United States has grown increasingly frustrated with the opposition's inability to overcome deep divisions and rivalries, and has called for a leadership that can rally wider support among activists fighting the Assad regime.
The Syrian National Council, the main opposition faction, is dominated by exiles and has been criticized by the U.S. for not including a broad enough representation, especially of those fighting and dying on the front lines. The SNC said it expects to have 22 seats on the new, 60-member council.
"We need unity for the opposition," said George Sabra, the newly elected leader of the SNC. "This is an important step."
—–
Jamal Halaby in Amman, Jordan, Mehmet Guzel in Ceylanpinar, Turkey, and Abdullah Rebhy in Doha, Qatar, contributed reporting.
November 11, 2012
Here is another sign about this is the year of the Youth! The Youth are the next  voices that I prophecied on my Prophecy by Clara page January 1, 2012
January 16, 2013
Here is a sign that I prophecied about for 2013 that people who have committed crimes for  years and thought noone will ever catch them.  The FBI caught him!!!
The sign is that in 2013 you will see more criminals and corrupted people getting caught for things that they did for years and now they will be caught or be destroyed.   My advice to these people to turn from their wicked ways and repent and asked Jesus to forgive them and turn themselves in. 
This guy had been doing crime since 1998.  People you can't hide from God!!!  The Holy Spirit will make them turn themselves in.
Top Ten Fugitive Joe Luis Saenz Captured
Top Ten Fugitive Joe Luis Saenz has been captured. On July 25, 1998, Joe Luis Saenz allegedly shot and killed two rival gang members in Los Angeles. Less than two weeks later, on August 5, 1998, Saenz allegedly kidnapped, raped, and murdered his girlfriend. Saenz allegedly murdered a fourth victim in October of 2008 in Los Angeles County.
Saenz was added to the FBI's Top Ten Fugitives List in October 2009.
February 15, 2013
Here is a sign of a meteorite hit Russia injured 1,100 people.  We wonder why things happen in some areas.  Sometimes they happen because of disobedient Leaders that are running Countries.  Such as Vladimir Putin is running Russia.  We know that he has been supporting Syria President Assad!  Putin doesn't treat those Russians right.  Everybody knows that Syria President Assad and his military is killing his own people.  For Russia President to take side with a evildoer like President Assad you know this is a warning.  This is a wake up call.  My advice to everyone is to accept Jesus Christ as your Lord and Savior.  Even if you have such evil dictators running your country as long as you are obedient with God and accepted Jesus Christ as your Lord then you will have a peace surpasses all.  The Armor of God will be your protection.  Those evil dictators will be dealt with.  Here is an article of the meteorite that hit Russia:
Prophetess Clara
About 1,100 injured as meteorite hits Russia with force of atomic bomb
Published February 15, 2013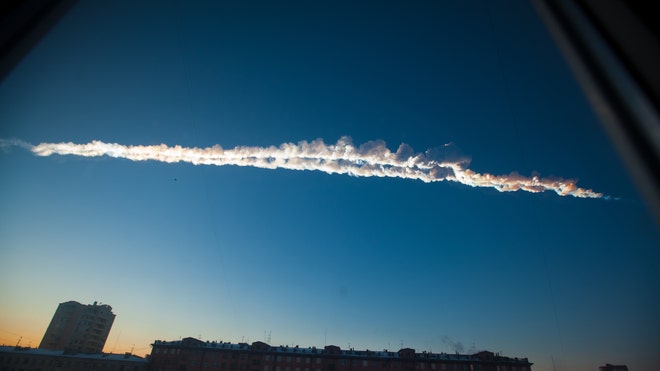 Fire in the sky: Nearly 1,100 injured as meteor falls in Russia
A 10-ton meteor streaked at supersonic speed over Russia's Ural Mountains on Friday, setting off blasts that injured nearly 1,100 people and frightened countless more.
A meteor streaked across the sky and exploded over Russia's Ural Mountains with the power of an atomic bomb Friday, its sonic blasts shattering countless windows and injuring about 1,100 people.
The spectacle deeply frightened many Russians, with some elderly women declaring that the world was coming to an end. Many of the injured were cut by flying glass as they flocked to windows, curious about what had produced such a blinding flash of light.
The meteor — estimated to be about 10 tons and 49 feet wide — entered the Earth's atmosphere at a hypersonic speed of at least 33,000 mph and shattered into pieces about 18-32 miles above the ground, the Russian Academy of Sciences said in a statement. But even small asteroids pack a tremendous punch, explained Andrew Cheng of the Johns Hopkins Applied Physics Laboratory.
"It doesn't take a very large object. A 10-meter size object already packs the same energy as a nuclear bomb," Cheng, who led a 2000-2001 mission for NASA to orbit and land on an asteroid, told FoxNews.com.
'It doesn't take a very large object. A 10-meter size object already packs the same energy as a nuclear bomb.'
- Andrew Cheng of the Johns Hopkins Applied Physics Laboratory, who led a 2001 mission to orbit and land on an asteroid
Amateur video showed an object speeding across the sky about 9:20 a.m. local time, just after sunrise, leaving a thick white contrail and an intense flash.
"There was panic. People had no idea what was happening," said Sergey Hametov, a resident of Chelyabinsk, a city of 1 million about 930 miles east of Moscow.
"We saw a big burst of light, then went outside to see what it was and we heard a really loud, thundering sound," he told The Associated Press by telephone.
The meteor hit less than a day before Asteroid 2012 DA14 is to make the closest recorded pass of an asteroid to the Earth for a rock of its size — about 17,150 miles. But the European Space Agency said its experts had determined there was no connection — just cosmic coincidence.
The meteor released several kilotons of energy above the region, the Russian science academy said. According to NASA, it was about 15 meters or 49 feet wide before it hit the atmosphere, about one-third the size of the passing asteroid.
Sky fall: When do meteorites strike?
A meteor exploded in the sky above Russia on Friday, causing a shockwave that blew out windows and injured hundreds.
Meteor vs. meteorite: What's the difference?
Meteors are pieces of space rock, usually from larger comets or asteroids, which enter the Earth's atmosphere. Many burn up by the heat of the atmosphere; those that strike are called meteorites.
How fast do meteorites go?
They often hit the ground at tremendous speed — up to 18,642 mph. That releases a huge amount of force.
How common are they?
Smaller strikes happen five to 10 times a year. Large impacts are rarer but still occur about every five years. Most of these strikes happen in uninhabited areas where they don't cause injuries to humans.
Source: AP
Some meteorite fragments fell in a reservoir outside the town of Chebarkul. The crash left a 26-foot-wide crater in the ice.
The shock wave blew in more than 1 million square feet of glass, according to city officials, who said 3,000 buildings in the city were damaged. At one zinc factory, part of the roof collapsed.
The Interior Ministry said about 1,100 people sought medical care after the shock wave and 48 of them were hospitalized. Most of the injuries were caused by flying glass, officials said.
There was no immediate word on any deaths or anyone struck by space fragments.
Meteors typically cause sizeable sonic booms when they enter the atmosphere because they are traveling so much faster than the speed of sound. Injuries on the scale reported Friday, however, are extraordinarily rare.
"I went to see what that flash in the sky was about," recalled resident Marat Lobkovsky. "And then the window glass shattered, bouncing back on me. My beard was cut open, but not deep. They patched me up. It's OK now."
Another resident, Valya Kazakov, said some elderly women in his neighborhood started crying out that the world was ending.
Russian-language hashtags for the meteorite quickly shot up into Twitter's top trends.
Lessons had just started at Chelyabinsk schools when the meteor exploded, and officials said 258 schoolchildren were among those injured. Amateur video footage showed a teacher speaking to her class as a powerful shockwave hit the room.
Yekaterina Melikhova, a high school student whose nose was bloody and whose upper lip was covered with a bandage, said she was in her geography class when a bright light flashed outside.
"After the flash, nothing happened for about three minutes. Then we rushed outdoors. I was not alone, I was there with Katya. The door was made of glass, a shock wave made it hit us," she said.
Russian television ran footage of athletes at a city sports arena who were showered by shards of glass from huge windows. Some of them were still bleeding.
Other videos showed a long shard of glass slamming into the floor close to a factory worker and massive doors blown away by the shock wave.
The vast implosion of glass windows exposed many residents to the bitter cold as temperatures in the city were expected to plummet to minus 4 Fahrenheit overnight.
The regional governor immediately urged any worker who can pane windows to rush to the area to help out.
Meteroids are small pieces of space debris — usually parts of comets or asteroids — that are on a collision course with the Earth. They become meteors when they enter the Earth's atmosphere. Most meteors burn up in the atmosphere, but if they survive the frictional heating and strike the surface of the Earth they are called meteorites.
The site of Friday's spectacular show is about 3,000 miles west of Tunguska, which in 1908 was the site of the largest recorded explosion of a space object plunging to Earth. That blast, attributed to a comet or asteroid fragment, is generally estimated to have been about 10 megatons; it leveled some 80 million trees.
Scientists believe that a far larger meteorite strike on what today is Mexico's Yucatan Peninsula may have been responsible for the extinction of the dinosaurs about 66 million years ago. According to that theory, the impact would have thrown up vast amounts of dust that blanketed the sky for decades and altered the climate on Earth.
The meteor could have produced much more serious problems. Chelyabinsk is an industrial town long held to be one of the world's most polluted areas, and the area around it hosts nuclear and chemical weapons disposal facilities.
Vladimir Chuprov of Greenpeace Russia said the Russian government has underestimated potential risks of the region. He noted that the meteor struck only 60 miles from the Mayak nuclear storage and disposal facility, which holds dozens of tons of weapons-grade plutonium.
A chemical weapons disposal facility at Shchuchye also contains some 6,000 tons of nerve agents, including sarin and VX, about 14 percent of the chemical weapons that Russia is committed to destroy.
The panic and confusion that followed Friday's meteorite crash quickly gave way to typical Russian  humor and entrepreneurial instincts.
March 20, 2013
There will be more people that done criminal activity for years because of GUILT the HOLY SPIRIT will make them return what they STOLE.  The Devil has to return everything he has stolen 30 60 100 fold!!!  Read this article:
Self-confessed Michigan thief returns money 30 years later — with interest
Published March 19, 2013
FoxNews.com
A self-confessed thief who stole $800 from a Michigan store in the 1980s has reportedly repaid the money in cash — with interest.An anonymous letter from the burglar, who didn't specify a motive, containing 12 $100 bills was received by Barry County Undersheriff Bob Baker on Monday, hours after a similar note was received in the newsroom of 24 Hour News 8, the station reports.In the letters, the author — who said he lived with "this guilt too long" — admitted to breaking into a convenience store just north of Middleville about 30 years ago. Both letters contained no signatures or return addresses.

Police officials were able to track down the owner of the store at the time. He sold the business in 1988, but confirmed it was burglarized sometime in the 1980s. The unidentified man said he was happy to learn of the development, but declined to comment.

"He was shocked just as much as everybody else was, 'cause this just does not happen every day," Baker told the station, adding that authorities are working on returning the funds.

As for criminal charges, the statute of limitations on the crime ran out long ago and the sheriff's department is not interested in reopening the case, Baker said.

"From the legal standpoint, the time has gone by and especially if this has bothered you for 30 years, I think you've suffered enough," he said. "I would say that you've made amends."
Read more: http://www.foxnews.com/us/2013/03/19/self-confessed-michigan-thief-returns-money-30-years-later-with-interest/#ixzz2O5jeRu5g